Banked asphalt oval racing - Tucson
06-03-2018, 09:21 PM
Tech Master
Banked asphalt oval racing - Tucson
---
one of the Tucson Hobbytown employees told me about oval racing that he and some others, plan on doing in NW Tucson where quarter midget race cars and i think he said go carts are also run. they have started a facebook page called 520 rc oval racing. i hear they are shooting for a 9 june, run what you brung test date, gate opens at 4pm
electric cars only
directions
tucsonquartermidgets.com (do not contact concerning RC)
9975 N Casa Grande Hwy, Tucson, Arizona.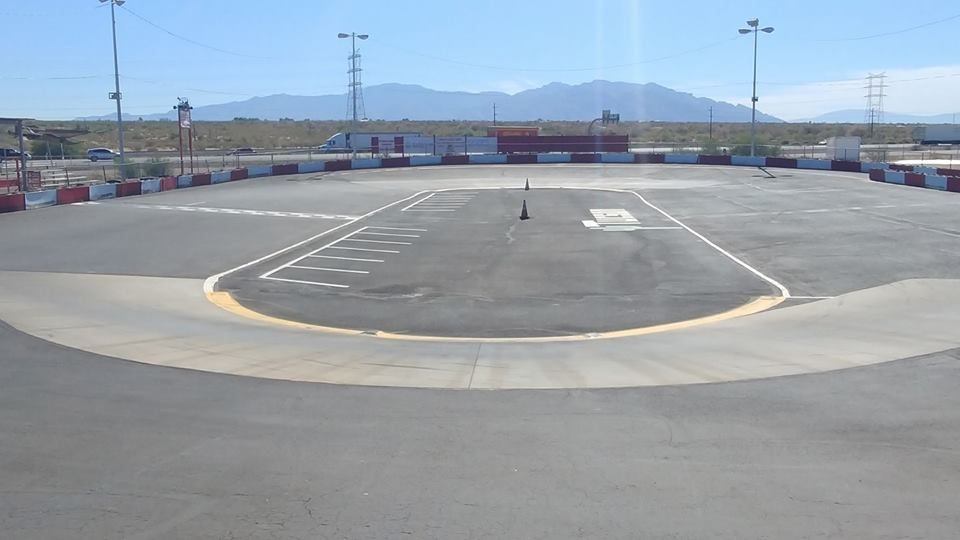 ---
Last edited by fast-ho-cars; 06-03-2018 at

10:09 PM

.
06-07-2018, 11:27 PM
Tech Master
---
i don't FB, i hear they did some testing and some videos, supposedly grip is good. but spec motor and gear box cars look really slow on this track due to size. i did not see employee at HT weds night, to ask if the track owner will allow any type of prep other than blowing off?
06-08-2018, 09:25 AM
---
Originally Posted by
fast-ho-cars
i don't FB, i hear they did some testing and some videos, supposedly grip is good. but spec motor and gear box cars look really slow on this track due to size. i did not see employee at HT weds night, to ask if the track owner will allow any type of prep other than blowing off?
Nice. It looks like the solution may involve running.... MOD?
06-11-2018, 10:00 AM
---
After going out to the track on Saturday I noticed a couple of things:

First, the track is a bit rough for pan cars on foam tires, rubber tire seemed okay because it absorbs the bumps better.
The track is lit so it can run after dark, as would be necessary in the summer time, unless we want to start the race day at 5am.
The grip looks decent, maybe a bit dusty, but the track screams Late Model and Sprint Car to me due to the bumps and transition between the asphalt and concrete corners. The track has the potential to be FAST, extremely fast with some practice, tuning, and mod power, the stock cars looked so slow around the track running wide open.
Also, interestingly the most in-control tires I saw run were astroturf pins. Probably due to how proper offroad tires were overheated on the hot surface, so maybe worn out pin tires can be used effectively.

CHECK OUT THEIR FACEBOOK PAGE! They will be updating there with info, and probably some videos.

If you love racing oval, you could do a lot worse than this place. I hope it picks up, I'll have my Late Model all assembled soon so maybe this could be a good deal.
06-17-2018, 08:32 PM
Tech Master
---
after asking some questions at hobbytown, these are the classes starting to spool or already spooled up
13.5 2S sprint car
17.5 1S Nascar truck pan car
13.5 2S latemodel this i believe is suspension dirt type car, not pan
07-01-2018, 11:12 AM
Tech Addict
Join Date: Aug 2001
Location: Maquoketa, IA
Posts: 514
---
Suggest one of the big draws across the country - late models and modifieds based on the Short Course truck chassis. 1/8 scale size for stability but 1/10 scale components. Try buggy rears like a PL Inversion all around and you are driving a rocket!
05-15-2019, 12:41 PM
---
Is this place up and running?
05-18-2019, 09:23 PM
Tech Adept
Join Date: Feb 2019
Posts: 141
---
Looks sweet, wish it was closer to me
06-02-2019, 11:54 AM
---
I drove by it yesterday on my way here me from O'Rourke Valley, looks sweet...I haven't been able to discover any facts about any RC racing scene there. I agree though, I can imagine a larger scale electric NASCAR spec racing scene there!
06-09-2019, 07:41 PM
---
Not too far from the Quarter Midget track North of Tucson, a guy named Richard Brauer has a small paved oval on his property. He does track days once in a while, and if people were interested he'd do them more.
If you are on facebook look for the group 520 RC Oval Racing
https://www.facebook.com/groups/1582507862042766/
07-24-2019, 02:19 PM
---
So... I'm living down South of Tucson about 100 miles from the Quarter Midget track (in Hereford) and have been here right at a Year now.
I was a r/c race organizer in California for many years - and actually still hold (5) RC Oval events a year at the Encino Velodrome in So Cal.
Since moving to AZ - I've gotten to run 3 dirt events at the now gone AKA Dirt Oval track in Phoenix, a Night of R/C Oval at the TQMA quarter midget track, a fun day at Richard Brauer's track only just a few miles from the TQMA facility, a couple dirt oval days down here in the Sierra Vista/Hereford area at a back yard track, and a QUARTER SCALE R/C race at the TQMA track.
In this time, I have also directed/promoted (5) R/C Oval Races at the Encino Velodrome in CALIF. (which is a 600 mile ONE WAY trip)
I've visited a few other tracks, and have a few other on my list that I want to check out, but they are in the North Phoenix area, and I just don't get up there that often.
I can look more into what it will take to rent the TQMA facility - I know after the last 10th scale day there, they had requested more money to use the facility.
For me, a normal race weekend's expense (Track Rental, Travel Expense, misc materials) I look at $600- $1000 for 2 days.
In order to take on the challenge of doing races in AZ 100 miles from home, I'd want to clear $300-400 per race day. That would put a few bucks in my pocket, along with building a fund to help keep the racing going.
If I use the $1000.00 number (figuring I can clear 300-400 with that number) the events would require 50 entries paid @ $20.00 per entry just to make it happen.
A $20.00 entry is pretty much an average club race entry price in CA. but I've noticed a lot of clubs in AZ try to charge $5.00 - $8.00 and that just wouldn't fly if there are expenses involved.
Now, with those kinds of numbers...is there any interest for me to pursue this?
Could we FIND / CREATE 50 or more racers who'd want to run some type of OVAL racing?
(NOTE: One of the classes with the hugest "FUN FACTOR" on our big Velodrome is a SPEC class using 2wd TRAXXAS Slashs with DIRT MODIFIED bodies. We had 22 entries in this class alone last month at our annual RC WORLDROME) because of this classes growing popularity in CA, the QUARTER SCALE (QSAC WEST) guys have added these to their race this weekend in CA at the Orange Show Speedway's Quarter Midget track.
Here's a video from my event:
03-02-2021, 08:08 PM
---
TAP TAP TAP~
So, it's been since 8.28.20 since I visited RCTech -- so crazy.
2020 saw me make the move from the Central Coast of California to the South-Eastern part of Arizona.
Since moving here, I've had my eye on the quarter midget track up North of Tucson a few miles.
Well - The end of March (Yes just a few weeks from now) March 26-28, 2021 we will finally get to have a 1/10th scale race at the Tucson Quarter Midget Associations facility (near Marana)
03-11-2021, 08:57 PM
Tech Addict
Join Date: Jul 2011
Location: Arlington, WA
Posts: 505
---
Where do you race in the Phoenix area on a regular basis?
03-27-2021, 08:27 PM
---
Great day 1 of racing today! Can't wait for tomorrow.