E Mergent RC Racing - Huntsville, Alabama
09-26-2012, 11:47 AM
E Mergent RC Racing - Huntsville, Alabama
---
We have a new on-road track in Huntsville and it is 96ft x 48ft. We are currently focused on 1/10 scale mini coopers and VTAs. We have a top-notch drivers stand and a great group of people. You can find pictures on the facebook site.
The track is located on the property with the hobby shop and the address is:
2118 Highway 72E
Huntsville, Alabama 35811
(256) 852-6833
facebook: E Mergent RC Hobby Shop
[email protected]
We have started a race series with the following schedule:
9/15/12 Race #1 - complete
9/29/12 Race #2
10/6/12 Race #3
10/20/12 Race #4
11/3/12 Race #5
11/17/12 Race #6 (Final Series Race 2012)
Please let me know if you have questions.
Tommy Whitaker
CEO & President
E Mergent RC
09-29-2012, 10:54 AM
---
I appologize for it taking so long for a moderator to approve your post. I used to log in to alabama a lot more than I am currently, of course I havn't been logging into rctech much at all period because I've been so busy with moving the past couple weeks.

Welcome and I hope your track does well.
09-29-2012, 05:40 PM
Tech Addict
---
Had a great day of racing today. 8 VTAs and 17 mini coopers showed today and we had some great battles on the track every round.
The track gives back a percentage of the entry fees to 1st-3rd places. With my 1st place finish at the last race, 3rd today, and my son's 2nd place last race we were able to turn in enough certificate money for a new VTA body
. The fast guys are turning 16-17sec average laps in VTA.
Anyone in the area that wants to race should come on out, everyone has a great time.
Registrations are at 10am
1st heat at 11am
next rounds at the top of the hour
Mains start at 2pm
3 heats and a main, and still home way before dark is my kind of racing!
We run VTA and Minis, but are looking to start other classes, so if we get 3 or more of any other class to show up they will race too.
09-29-2012, 06:32 PM
---
No problem and thanks for the approval. As Kenny said we are looking for other classes so jump in and let us know what you want to race at the track. The track is big (96' x 48') and it has three distinct areas; wicked fast, medium fast and very technical.

We look forward to your input.

Tommy
09-29-2012, 06:41 PM
Tech Addict
---
This is a pic of it while we were still building it, will get a current pic of the track posted soon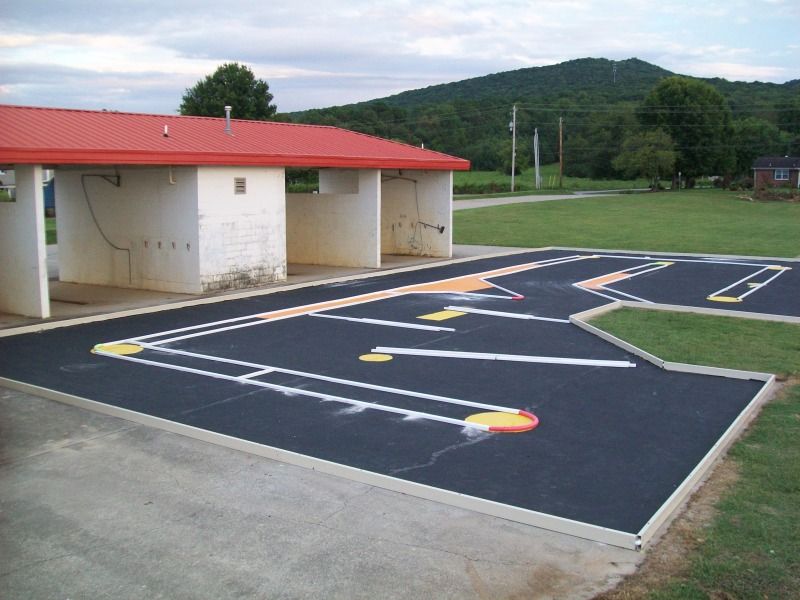 09-30-2012, 04:00 AM
Tech Addict
---
8' lanes
09-30-2012, 05:52 AM
---
And just in case it was not clear, the track is always available for use. In fact we have people on the track at lunch and after work during the week so come on out. Oh, and there is NO charge for track usage. Just come and have fun.

The store has a website, but all of the track updates are via Facebook and now on RCTECH. I will post a list of my dealer account this week with the latest on being RCAmerica (X-RAY).

The store is open:
Monday - Friday 10:30am - 6:30pm
Saturday 10:00am - 4:00pm
Sunday 1:00pm - 4:00pm
09-30-2012, 09:41 AM
---
The one lug team had the most fun in a long time great racing all day long with a lot of good drivers . My girl realy put on a show and making the AMain was sweet I'm so happy she did so good ! Thanks for letting us come out.
09-30-2012, 02:43 PM
Tech Addict
---
It was great having yall at our track and having a female driver in the race. We have another driver whos fiance that races minicooper also, but couldn't make it out. Your girl has skills, the only way to tell her apart from the rest was the paintjob.

Think you could talk a few of your "regulars" into coming down for a race that drives the F1s, TCs, or anything that we don't have here yet for an exhibition race? That F1 you had on your table was killer looking.
09-30-2012, 03:51 PM
---
I will see what I can do to get tham to come race as for the f1 cara I ran mine and it was a little to bumpy for tham .but 17.5 tc wood be fun
09-30-2012, 05:00 PM
Tech Addict
---
That would be great because I'm building a 17.5TC for myself anyways. What tire would you recommend for our surface?
09-30-2012, 05:32 PM
Tech Master
Join Date: Nov 2004
Location: Huntsville, AL
Posts: 1,500
---
The tires will depend on track temperature. When you see a tire listed as 28, 30, 32, or 36 those numbers relate to a temp range in Celsius.
09-30-2012, 07:09 PM
---
Like chanc sad it's depends on temp on hoter days I wood run a 32 and up and on colder days 30 and down .
09-30-2012, 07:40 PM
---
When do we get to see some pics of the race lol