Psycho Nitro Blast V - Insaniversary March 8th-11th 2012
12-30-2011, 09:12 AM
---
This yearís track layout will be designed by myself so with that in mind it could get a little crazy. We have decided to expand our departments and add a branch solely responsible for accepting your complaints.
For example:
If you think the track is too big
Maybe the jumps are just too extreme for you
Youíre upset that Ryan Lutz lapped you
The drivers stand is way too tall and badass
The music is too loud
You didn't get to make out with the Psycho Girls
Maybe you only received 5 Monster drinks
The Insomnia Coffee shop serves their coffee way too hot
Adam Drake wouldn't let you drive his rocket car.
You wanted 38 hours of practice, not 37
These are all great complaints and we welcome your opinions. Feel free to find any of our staff and they will direct you to the back room where our newly appointed director of operations for the pnb complaint department will handle your situation.
See, at the pnb we pride ourselves in handling problems quickly and professionally. That is why the saw will be fully tuned and the blade sharpened by only the best because we realize that offering you a clean cut is the least we can do.
Have a great New Year everyone!
01-04-2012, 09:20 AM
---
What else is there to say? It's a match made in heaven!
We are pleased to announce that Monster Energy is a level 3 premier sponsor of the pnb for the 4th year in a row!
Monster Energy and the Psycho Nitro Blast will again be bringing you more than 30 hours of non-stop practice Thursday into Friday and then we open the track back up after the 1st round for another 8 hours of available practice. You will need every ounce of Monster you can find and they will be there to provide just what you desire. Combine all that with the PNB girls walking around handing them out and now you know where the psycho gets the name.
Start preparing yourself to burn some Nitro/Voltage, Because you will.....We promise!
01-09-2012, 10:36 AM
---
The Psycho Nitro Blast welcomes back one of our good friends Jeff Conner and 4C Hobby Supply as a premier level 3 sponsor again! 4C Hobby Supply has been a sponsor since our very first year and has always supplied the racers with top quality hardware.
If you guys are in need of any size nut, bolt, washer, bearing, drive pin, diff balls...The list goes on and on be sure to visit their onsite store at the pnb. They will be located just behind the drivers stand in a 10 x 20 shop stocked full of hardware.
If you want to order your stuff before the event all of the products can be found at:
www.4chobbysupply.com
and if ordered by Feb.15 you will get your stuff before making the trip to the Psycho. If not Jeff will offer delivery to the event. Thatís pretty sick!
One more thing....Don't forget to try out their new GT Series bearings, they are unbelievable!
4CHobbySupply at last years PNB.
www.4chobbysupply.com


Specializing in Hardware and Ball Bearings for Racers - Pilots - Hobbyists
01-11-2012, 07:39 AM
---
Just when you thought it couldnít get any better, it just did! The Psycho Nitro Blast is pleased to announce that LiveRC will be in attendance and ready to broadcast the insanity that is the Psycho Nitro Blast to the entire world.
If any of you saw the awesome coverage of the 2010 IFMAR 1/8 Off-road World Championship then you will know exactly what we are bringing you. This wonít just be your typical one webcam broadcast. LiveRC is bringing the whole production rig. We are talking 3 cameras: 2 moving cameras following the leaders and the hot battles on track; The other camera walking the pits, capturing the vibe, doing driver and pit interviews and analysis of all the day's action live for you to enjoy in the pits or at home.
Brandon Rhode, Owner of LiveRC will be traveling down from Wisconsin bringing along his broadcast center with a production crew of five guys. This includes 3 camera operators, 1 online announcer, 1 production assistant and himself. This crew will be responsible for all web broadcasting and media for the entire event.
We are also very excited to announce that this year the Psycho will be using RC Scoring Pro software to handle the timing and scoring for the race. We understand that with the magnitude of the pnb, only the best software will do. And with that said, we would like to welcome Jimmy Babcock and Nick Black as the race directors for the Psycho Nitro Blast. We are bringing on two of the best people in the industry to handle the timing and scoring, making sure that the Psycho runs smoothly and professionally so that all the racers are taken care of.
We feel that the Psycho Nitro Blast is one of the greatest races on the planet, and what better way to showcase this than to have the best RC media coverage and scoring software in the world.
Check out
www.liverc.com
for the latest news and live racing action from all over the world.
01-12-2012, 07:52 AM
---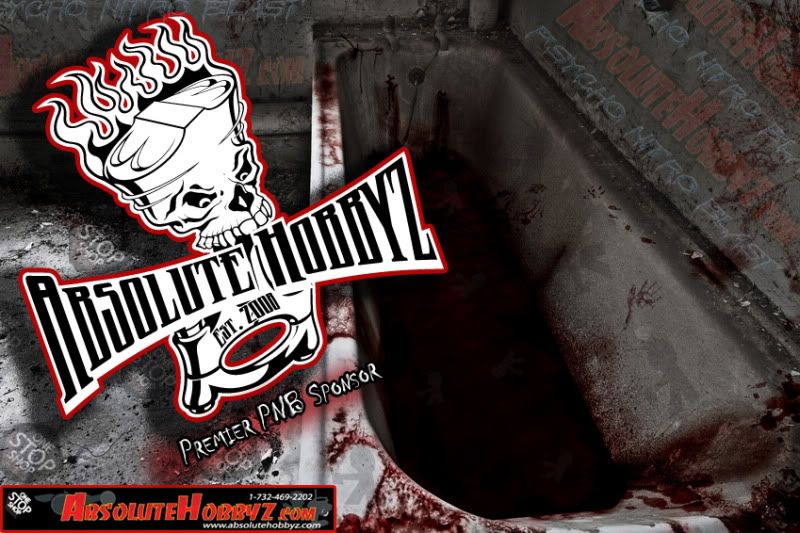 Another premier sponsor announcement!

Absolute Hobbyz is back for it's second year as a premier level 3 sponsor of the Psycho Nitro Blast. Now one of the largest online hobby shops in the world, Absolute Hobbyz has just about anything you will need to keep running fast.

Special thanks to Joe Zatika (owner) and Chad Phillips for all of their support over the years. They have donated a huge amount of stuff to be given to the pnb racers and has helped make the pnb experience that much better.

Team Associated and Absolute Hobbyz driver Chad Phillips will be in attendance to battle for the pnb title. He will be pitting over in the team associated area and will be available to answer any questions you may have.


Check them out at www.absolutehobbyz.com


Some of last years Absolute Hobbyz prizes!!
01-12-2012, 11:10 PM
---
Well with today being Friday the 13th we thought this was appropriate. Our favorite Haunted House in the whole world!
And maybe you might see some things on display as youíre making your way into the Psycho........Just maybe.
01-16-2012, 07:04 PM
---
A little ramp building on Saturday!!!!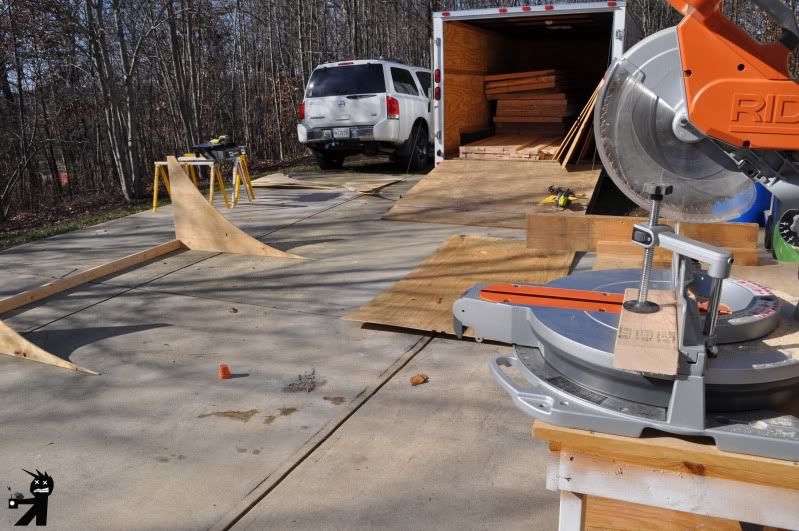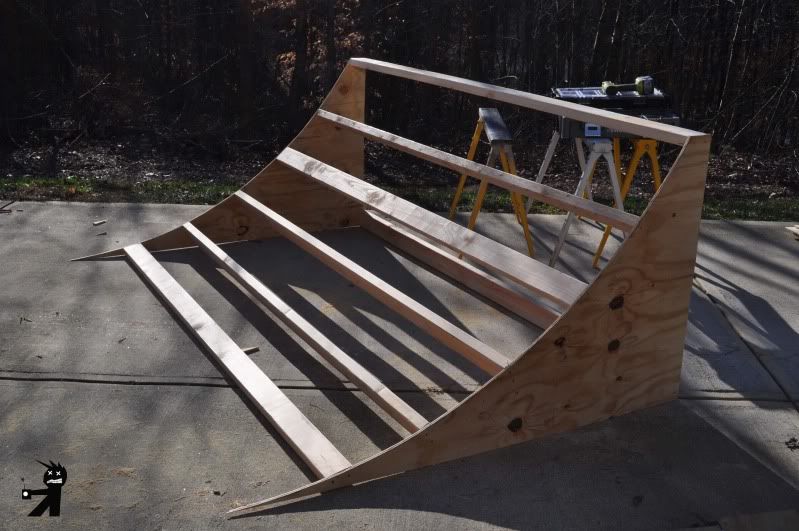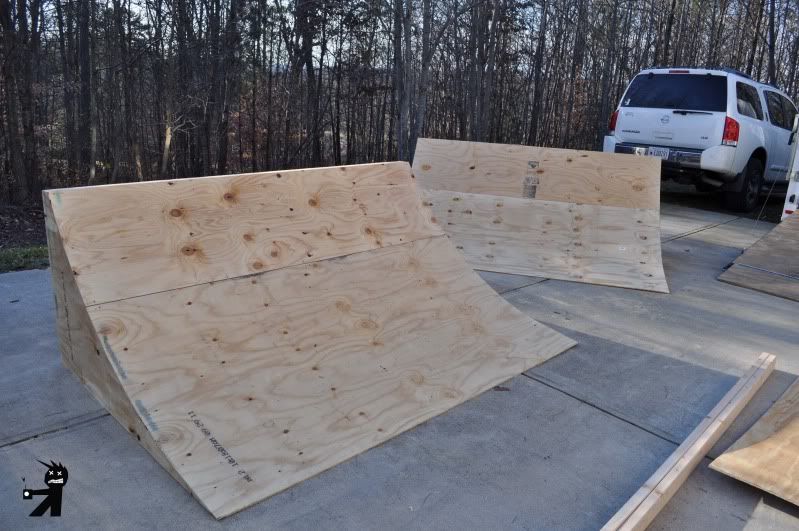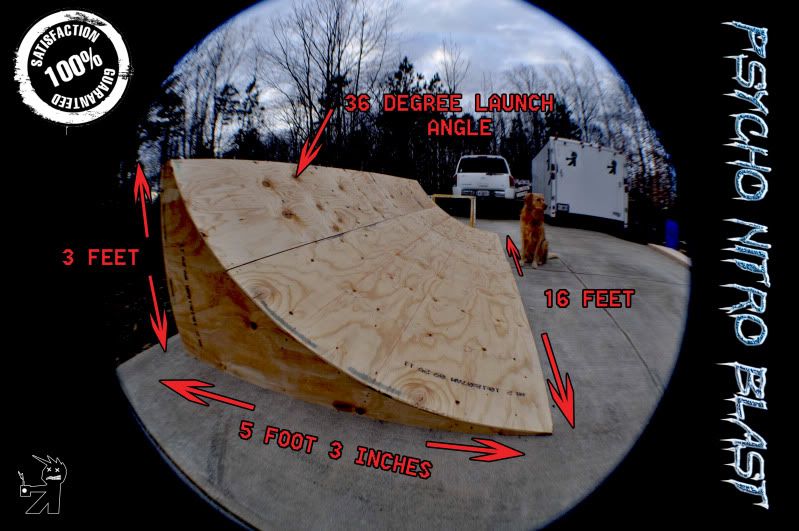 Is it March yet?
01-16-2012, 09:33 PM
---
We want to again thank Werks Racing for giving away 100 gallons of their 30% race blend fuel to the first 100 paid psychotics. That is over $2500.00 in fuel given away for free to the pnb racers. That is AWESOME!!!!!!
Here is the list of the first 100 entries.
Keith Lewis 1
Josh Aslinger 1
Jason "Limywidget " Gillenwater 1
Kevin Machen 1
Ryan "SPEED RACER " Gough 1
Wyatt Durrer 2
Michael "TremorX " Johns 2
David "db " Backer 1
Rick "Kilfish " Bender 2
Drew Cassidy 1
Brad Smith 2
Jason "EastCoaster " Sneed 1
Scott "MotoGod " Pouliot 2
Greg "boxstang40 " Lawson 1
Lee "killerbz " McMichen 1
Pete "sneeky pete " Worth 2
Randy Bailey 1
Robert Pickard 1
Kenneth Barton 1
brian kuffermann 2
Chris Gordon 2
Marc "The Technician " Beck 3
Chris "the punisher " Thomas 1
Heywood Barton 2
MARK "SSC " SOLIMAN 3
Pete ""THE GREEK" " Mavromatis 1
Ray "Eightoffroader " Winstead 2
RICKY LAYMAN 2
Joey "Batman " Perez 1
Jason Riemer 1
Max Flurer 2
Jeremy "The Jerm " Jones 2
William "Gonzo " Beck 1
Chanion "SGT SLAUGHTER " Beard 2
Michael Jackson 3
Ron "benningtonr " Bennington 1
Brian Ferguson 1
Nick Murawski 1
peter margl 2
Phillip "Phill " Pascetta 1
Weston Hall 2
Edward "DNF " Taylor 2
Josh "Halfman " Glancy 3
John "JB " Bernard Jr. 1
Ralph "Rocket Ralph " Reynolds 3
tommy "fix218 " scott 1
James "BigWhit " Whitaker 1
Marcus Izzo 2
Jason Gentry 1
Adam "Los Crocco " Crocco 3
Bryan "BULGE " Grizzell 1
Kevin Machen 1
Matt Brown 1
Brian Geist 2
Charles "Charlie " Young 1
Daniel "Dapper Dan " Young 1
Jeremy Copley 1
Cole "The Hitman " Copley 1
Kevin "Hawk " Hawkinson 1
scott ""Jethro" " brickey sr 1
Patrick Cowboy Risser 2
TONY "BONES " PATTISHALL 1
Ken Rand 1
Andrew Crocco 3
Dan "DANZO " Smith 1
Jeff "2 Chek " Tuchek 1
Total Gallons: 100
All fuel can be picked up starting Thursday morning at 8am at the Insomnia Coffee Shop located just inside the main entrance.
---
Last edited by Leikam; 01-17-2012 at

12:25 PM

.
01-17-2012, 08:09 AM
---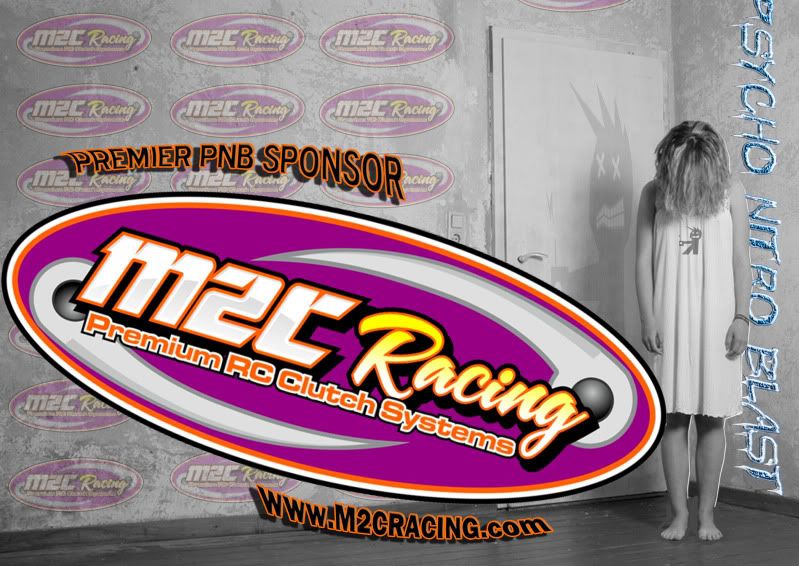 The Psycho Nitro Blast would like to welcome level 3 premier sponsor M2C Racing back for its fourth year of sponsorship. Special thanks to Mitch Looper for all the support over the years and for designing some of the best aftermarket products money can buy. Anything from top of the line clutch systems to toe plate kits, captured pins, motor mounts, clutch shoes, shock towers....The list goes on and on! Check out all of their products at www.m2cracing.com and also take advantage of this:

M2C RACING IS HAVING A SALE THROUGH THE END OF THE MONTH! 10% off all items in stock use coupon code m2ccoupon to receive your discount.



There is also another cool announcement coming your way concerning a new product they have been developing for some time now. You will want to stay tuned for that!
01-18-2012, 07:12 AM
---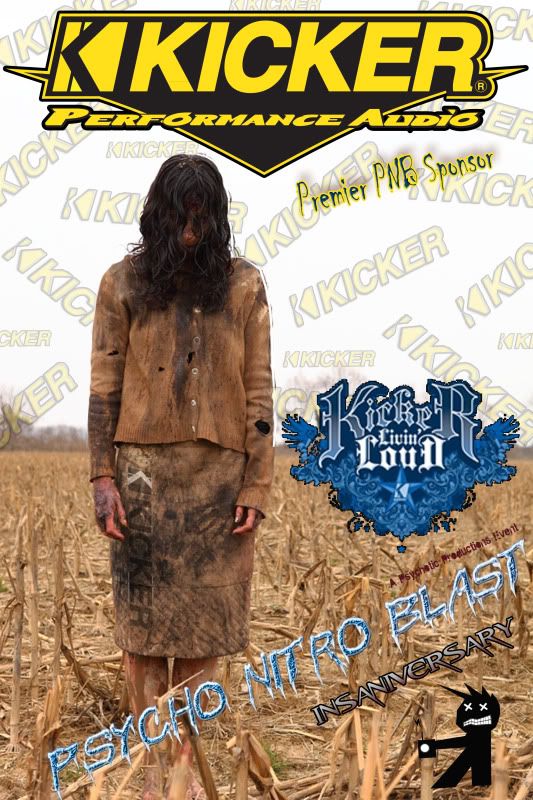 Kicker Audio is back as a premier sponsor of the Psycho and is ready to give away some very cool stuff to you guys! Makers of some of the finest audio gear, Kicker has just about anything you need to make your car, boat or ears explode. They furnished our haunted house bus with a couple of 10" subs last year and they sound amazing! It was definitely a crowd favorite!
We can't leak out all the fun stuff so stay tuned for more information on kicker and what they are doing at the PNB!
Check out all the goodies at
www.kicker.com
01-19-2012, 08:55 AM
---
The PNB would like to welcome level 3 Premier Sponsor Dialed Inc to its very first Psycho Nitro Blast. They will be in attendance to showcase all of the cool products they have to offer including car bags, tire cans, storage bags, fluid bags, tool bags and apparel. This is definitely some of the coolest stuff on the market. High quality storage solutions with that factory look!

Of course we have more to announce concerning Dialed Inc and all the cool stuff they are doing for you psychotics so show a little patience will you!
Check them out at www.dialedinc.com
01-20-2012, 09:39 AM
01-23-2012, 09:42 AM
---
The PNB would like to welcome back Competition Heat and the new Competition Suspension as a 2012 premier sponsor. Competition Heat offers you the finest engine heaters on the market allowing you easy motor break in and start up by properly and effectively heating all critical parts. It will pay for itself year after year by increasing engine life and performance. And new to the scene is Competition Suspension, designed to take suspension tuning to a whole new level! The cool thing is that Competition Suspension will be on hand to debut their innovative products and talk with you guys about how to get the most out of your suspension.

Competition Racing Products press release:

Competition Racing Products Inc. (CRP) is excited to take part in PNB 2012 as one of its premier sponsors. Most are familiar with Competition Heat and now Competition Suspension (CSI). CRP is dedicated to bringing innovative performance products to the RC industry and will be on hand at this yearís event to showcase their Comp Heaters and Competition Suspension shock products.
CRP is currently working on their new web site www.compracingproducts.com This new web site will not only provide shock tips, but a shock talk forum to assist CSIís customers to achieve a finely tuned suspension.

See you guys in March!
01-24-2012, 09:17 PM
---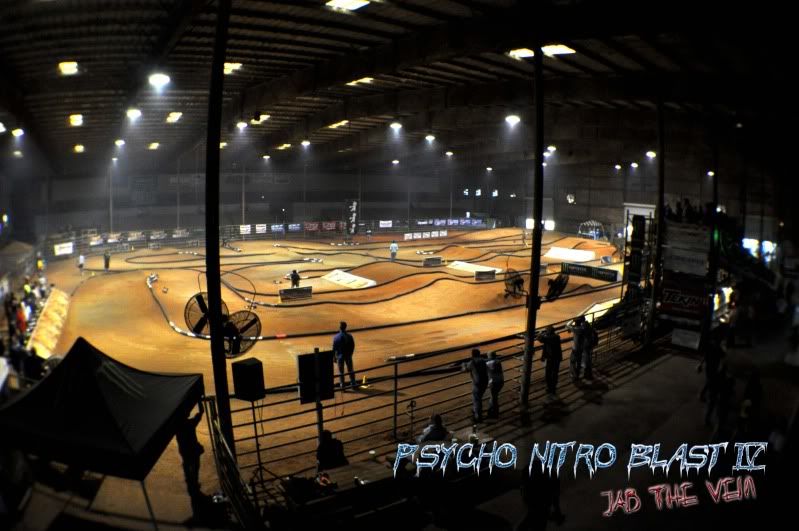 "Don't be ashamed if you shed a tear of joy."
01-25-2012, 04:48 PM
---
Last years massive layout.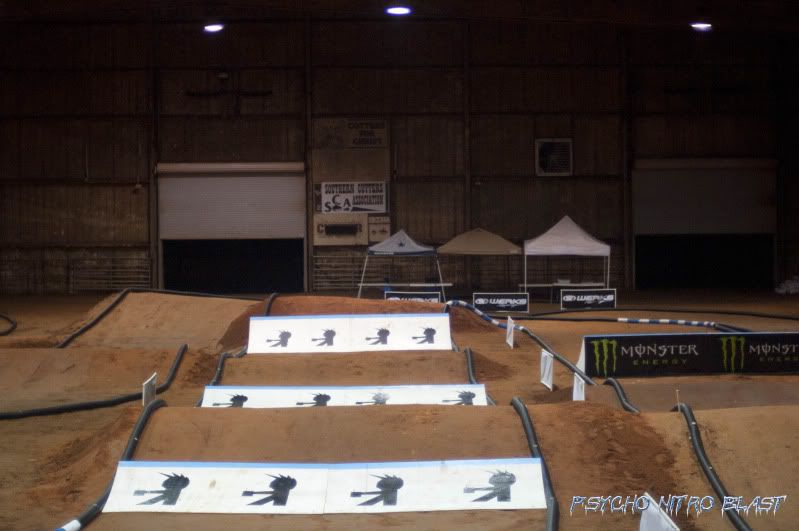 Do the thing we fear, and death of fear is certain. -Ralph Waldo Emerson