The Warehouse...
03-22-2011, 08:11 AM
Tech Elite
I was gone to lunch and someone snuck in and got video!
---
http://www.youtube.com/watch?v=gc8sQ0flBHk
The new layout at the Warehouse! We should have one about every 2-3 months at the Warehouse so it's going to be a great year and some fast racers coming out of the area!
03-24-2011, 07:21 AM
Tech Elite
me driving a racers stock losi 4x4 sct at Warehouse new layout
---
03-27-2011, 07:56 AM
Tech Regular
Join Date: Oct 2010
Location: Knoxville, Tn
Posts: 298
A Big Thanks
---
I want to give a huge thanks to Alan and the whole Warehouse Crew. We drove 4 hours from Knoxville to go race with these guys and man was it worth it. Everyone was so super nice, Cant say enough about the track and the way they run the race. I think there was close to 50 racers there consisting of like 9 heats ( We even had a full main of 1/8e buggies.......Ya Baby) The track is so sweet. I can promise you if you take the trip to the Warehouse you will not be disappointed. A great track, very well run race and even better people.

Have fun racing,
Heywood
---
Last edited by hhbarton11; 03-27-2011 at

11:02 AM

.
03-27-2011, 10:47 AM
Tech Addict
Join Date: Feb 2009
Posts: 655
Burton
---
You got a PM
04-01-2011, 10:45 AM
Tech Elite
---
Hey guys, if the weather is bad over in the area this weekend you guys head over to the Warehouse this saturday. Gates open at 8am and racing starts at 1pm.

Call me at 205 601 5578 if yo have any questions.

Track Address is 204 Rolling Mill Street, Helena Alabama, 35080
05-30-2011, 02:05 PM
Tech Elite
June 4th Club race...
---
Guys, I'll be out of town racing but Clint will be running a great event like always, Dave, Joey, Horton, and the rest of the crew will be there. To give thanks back here is what we are going to do for the local guys who support us...that's right not bringing in a bunch of fast guys and promoting this one. It's just a good old fashion fun club race thats going to give the regular guy a little something back!


This weekend we will be paying out $500.00 Big Ones! Plus $250 to someone who can break the current track record for qualifying!

Each class will take 100.00 and there is no entry limit--yes that's right no entry limit!

Classes:
Buggy
Truggy
E-Buggy
4wd open corr
2wd open


You guys have a good time and I'll see you on Tuesday night for the club race!
07-25-2011, 04:46 PM
Tech Elite
New layout for the Alabama Indoor Super Nationals...
---
07-26-2011, 10:31 AM
Tech Elite
---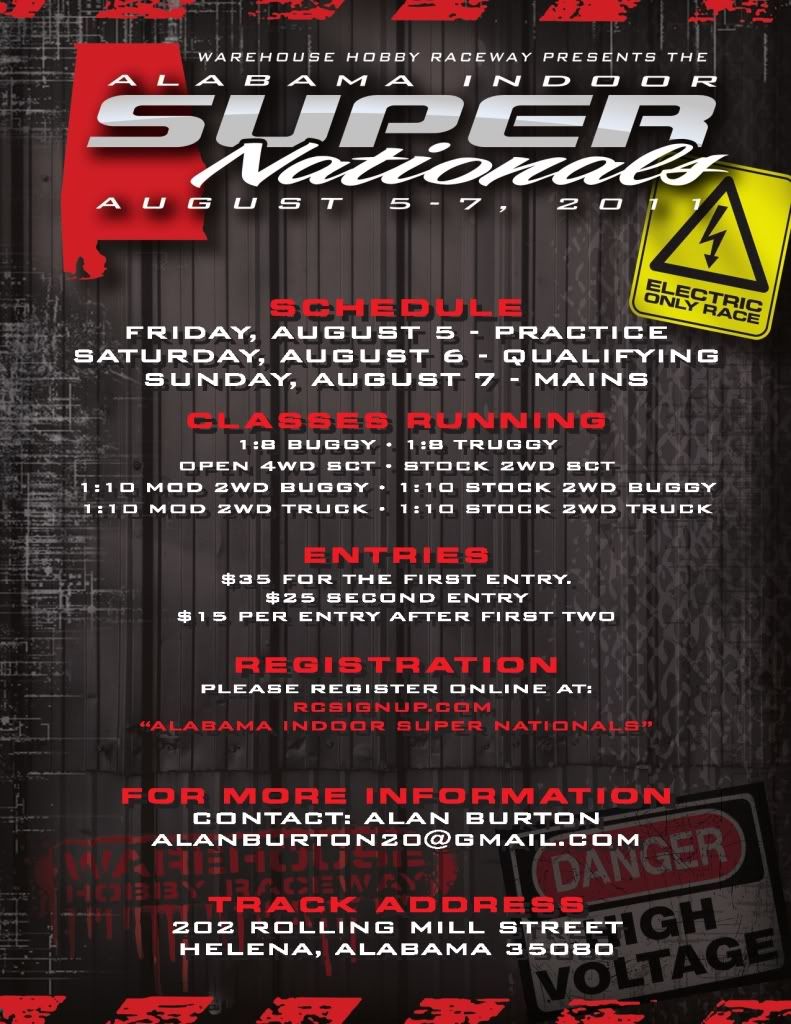 07-27-2011, 07:49 AM
Tech Elite
1/10 4wd in action
---
08-19-2011, 09:06 AM
Tech Elite
Thanks to Liverc.com
---
08-24-2011, 11:39 AM
Tech Addict
Join Date: Feb 2009
Posts: 655
Mr Alan
---
are you racing this week???
10-10-2011, 10:25 AM
Tech Adept
Join Date: Jul 2006
Location: Decatur,AL
Posts: 182
---
had a great time alan! i will be back.....outstanding track and pit area!!! i thought i over heated the last three laps of my main but i suspected something else. i got home and drove down the driveway and same thing, ive prob got an electrical prob! considering all that.....ill take third anyday!!