8Likes
What Did You Print Today?
07-09-2019, 09:47 PM
What Did You Print Today?
---
Thought it might be interesting to see what others are printing either past or present - maybe RC related, maybe not? Feel free to post your model design as well to share with others.
Here is a B6 front wing fresh off the printer. Designed in sketchup and printed on a ender 3 pro
https://www.thingiverse.com/thing:3744625
---
Last edited by sacmiata; 07-12-2019 at

10:17 PM

.
07-11-2019, 07:50 AM
07-12-2019, 12:24 PM
Tech Elite
Join Date: Dec 2009
Location: Warsaw Indiana
Posts: 2,145
---
07-12-2019, 10:19 PM
---


Great parts tray/tool organizer setup as well. I think I might have to come up with one myself that hangs off my tool box!
07-12-2019, 10:57 PM
---
07-16-2019, 04:56 AM
---
Working on a crawler body, first print is 50 hours, still working on setting up prints.
07-16-2019, 12:57 PM
Tech Initiate
Join Date: Apr 2016
Location: Mcdonough
Posts: 34
---
I designed and printed this tool stand.
07-17-2019, 12:09 PM
---
B6 front wing mount - R1 - will update thingiverse in a day or two.
Man i need to clean my buggy!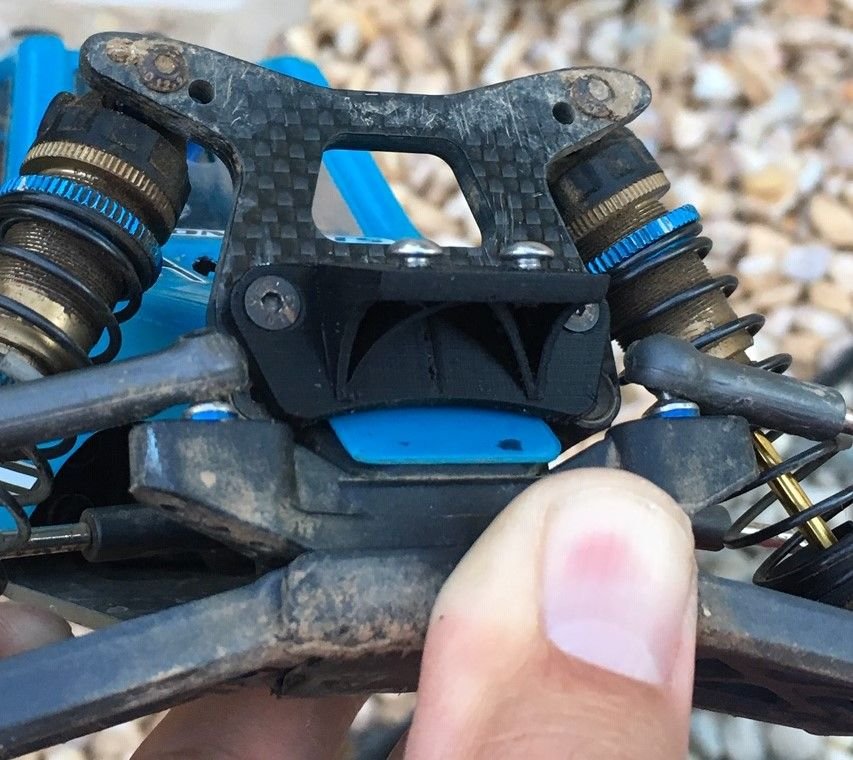 08-14-2019, 11:21 AM
Tech Rookie
Join Date: Aug 2019
Location: Frederick, MD
Posts: 12
---
I can't post pics yet until I have more posts, but I created a 1/8 truck body for a T-Maxx based on the MJ Megalodon after seeing it on a Big Squid "wish list" article last year. Built in Blender and Meshmixer. Did a ton of measurements and tweaks ahead of time to get the dimensions right. The idea was to create a form for vacuum molding purposes. The printed out version would be used to create a silicone form to do the actual vacuum forming.
Biggest issue was size, and cost. Few hubs even wanted to print it, and those that did wanted a small fortune. Some even argued that it was unprintable(even though I had printed out a scaled down test version on my little Davinci Jr 2). Finally I just decided to use my tiny printer to print out sections of it and glue it all together. Literally took 2 weeks to do this! It worked ok...I had to do a lot of filling where joints where, etc to get it reasonably smooth enough.
Eventually I created the silicone form from this(and that's were the real expense was, holy crap), and managed to get a couple of pulls. Still working kinks out on my former, but it looks like this technique will work out pretty well. You can at least see the front of the truck body in my avatar
Currently Active Users Viewing This Thread: 1
(0 members and 1 guests)
Posting Rules
You may not post new threads
You may not post replies
You may not post attachments
You may not edit your posts
---
HTML code is Off
---