What Did You Print Today?
07-09-2019, 10:47 PM
What Did You Print Today?
---
Thought it might be interesting to see what others are printing either past or present - maybe RC related, maybe not? Feel free to post your model design as well to share with others.
Here is a B6 front wing fresh off the printer. Designed in sketchup and printed on a ender 3 pro
https://www.thingiverse.com/thing:3744625
---
Last edited by sacmiata; 07-12-2019 at

11:17 PM

.
07-11-2019, 08:50 AM
07-12-2019, 01:24 PM
Tech Elite
Join Date: Dec 2009
Location: Warsaw Indiana
Posts: 2,328
---
07-12-2019, 11:19 PM
---


Great parts tray/tool organizer setup as well. I think I might have to come up with one myself that hangs off my tool box!
07-12-2019, 11:57 PM
---
07-16-2019, 05:56 AM
Super Moderator
Join Date: Nov 2005
Posts: 67,075
---
Working on a crawler body, first print is 50 hours, still working on setting up prints.
07-16-2019, 01:57 PM
Tech Initiate
Join Date: Apr 2016
Location: Mcdonough
Posts: 35
---
I designed and printed this tool stand.
07-17-2019, 01:09 PM
---
B6 front wing mount - R1 - will update thingiverse in a day or two.
Man i need to clean my buggy!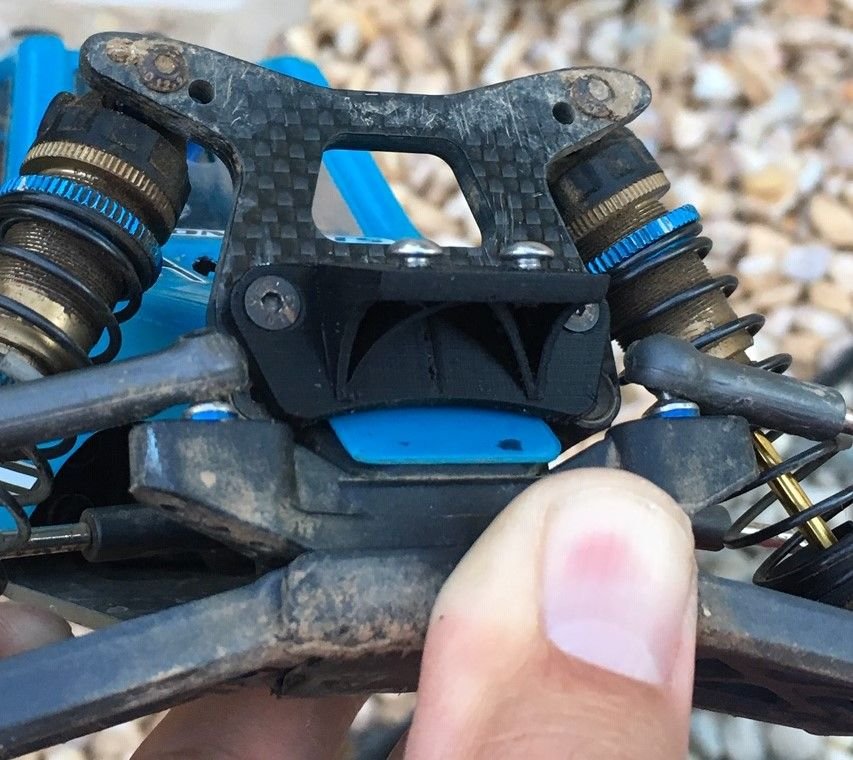 08-14-2019, 12:21 PM
Tech Apprentice
Join Date: Aug 2019
Location: Frederick, MD
Posts: 58
---
I can't post pics yet until I have more posts, but I created a 1/8 truck body for a T-Maxx based on the MJ Megalodon after seeing it on a Big Squid "wish list" article last year. Built in Blender and Meshmixer. The idea was to create a form for vacuum molding purposes. The printed out version would be used to create a silicone form to do the actual vacuum forming.

Biggest issue was size, and cost. Few hubs even wanted to print it, and those that did wanted a small fortune. I wound up printing out a bunch of sections and gluing it all together. Total nightmare, and the results were subpar.
---
Last edited by johnnydmd; 09-10-2019 at

12:21 PM

.
08-18-2019, 09:02 PM
Tech Master
Join Date: Jul 2018
Location: Florida
Posts: 1,002
---
What are you guys using to model? Anything decent and low cost?
08-19-2019, 09:00 AM
Tech Apprentice
Join Date: Aug 2019
Location: Frederick, MD
Posts: 58
08-22-2019, 07:31 AM
Tech Initiate
Join Date: Aug 2019
Location: Budapest
Posts: 34
1:10 Hummer H1 3d printed
---
Hello,

Im starting to build a 3D printed 1:10 Hummer H1
Balázs
08-25-2019, 04:53 PM
Tech Addict
Join Date: Apr 2012
Location: ohio
Posts: 647
---
Anyone interested in printing me a tool holder I have mip tools if so please PM me with price shipped thanks