Nothing beats a new set of wheels on a vehicle to improve the performance or to just refresh the current look. The 1.9" beadlock, Torch aluminum wheel set for the Traxxas TRX-4 by JConcepts is a perfect complement to the array of builds for one of the hottest segments on the market. The 1.9" wheel is extremely versatile for the competitor, but authentic enough to have the detail for a show worthy rig.
Inside Look to the JConcepts Torch Wheels for TRX-4
The 6 spoke wheel is a straight-forward design, incorporating a triangle type spoke around the center for heavy street appeal. The basic color is black, however, the natural color of the aluminum wheel has been exposed in the spokes which add a touch of mystery and depth. Around the hub section, a flared boss surrounds the screw mounting area and has been highlighted in silver to bring out the luster of an all metal wheel design.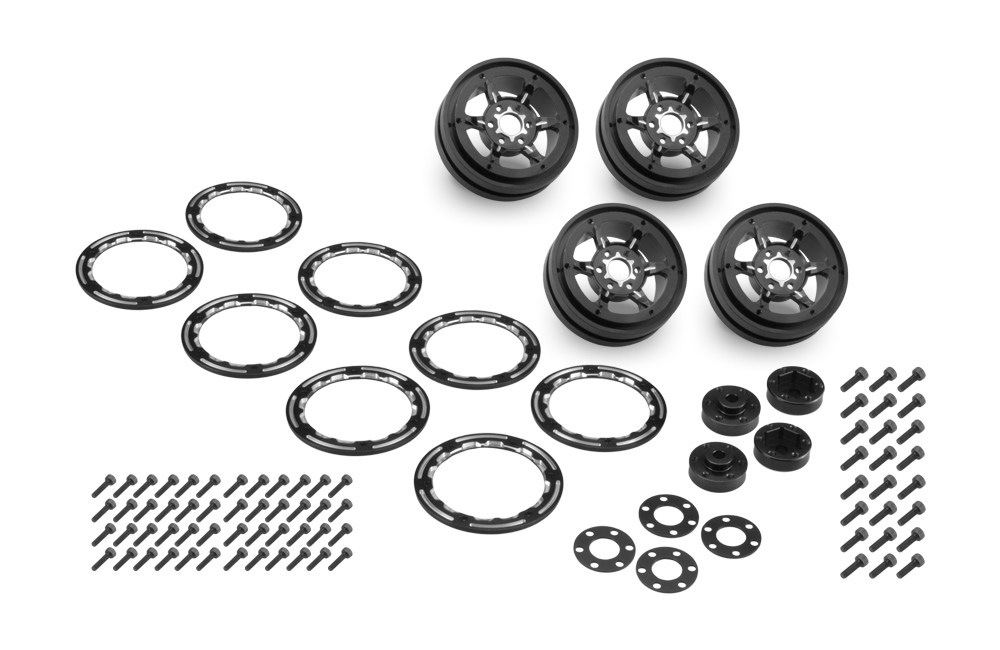 The advantage of the Torch wheel set rests in the details. The bead lock wheel has a bolt-in 12mm hex adaptor which features a shim option to increase the width by 1mm on each side by adding in the aluminum spacer between wheel and adaptor. The assembled wheel is solid with aluminum material, machined details with an array of threaded holes for the most tire mounting security.
Each package contains four wheels, eight aluminum bead locks, four 12mm aluminum hex adaptors, four 1mm offset shims and steel hardware for complete assembly. The assembly begins by securing the hex adaptor (optional shim) to the wheel with six, 2.5x8mm SHCS. Finally, prepare and install the tire of choice on the wheel and place the beads into the recessed portion of the wheel on each side, lock into place by adding the bead lock on each side and securing with twelve, 2x8mm SHCS.
Note – Always use a very light amount of thread locking compound to screws/hardware to maintain security. It is helpful when mounting tires on the wheels, always secure one side of the tire before attempting the other.